Over the past four years, Essex Tech's Joel Spruance and fellow futbol aficionado Mike Chase got to know one another while working at the Danvers-based technical and agricultural campus. Chase serves as the school resource officer, while Spruance is an assistant principal in addition to his daily work as the head boys soccer coach.
At the time they were introduced, Chase was heading the Danvers' boys program. The two even organized a handful of scrimmages between their squads. Earlier this year, though, Chase stepped down at DHS but remained in his role at Essex Tech — and he wanted to continue guiding high school soccer players in some capacity.
Thus, a new coaching duo was born.
"We'd been talking about this opportunity for a few years now," said Chase, now the co-head coach at Essex Tech alongside Spruance, "Our relationship developed at the school, and the opportunity to coach together was perfect this year. It just worked out.
"I'm happy to be here. It brings me closer to the school and the kids, and I'm having a ball. It's one of the best years I've ever had as a coach and the group of guys we're working with … I just couldn't ask for a better situation."
Through a dozen games, the newly implemented Hawks' managerial tandem is thriving. Essex Tech has yet to drop a game — they currently sit at 11-0-1, with the one tie coming against Shawsheen in their second game — and it's becoming increasingly perceptible that the players have completely bought into both Chase and Spruance's coaching philosophies.
"It's tough to say that anybody could expect what these guys have been able to do, but I was very confident in the seniors' ability to lead a team, compete and work every game," said Spruance, who is in his ninth season with the Hawks. "I cant say I saw this good of a record at this point in the season, but I was always confident with the group we had.
"I feel like we've competed every game; they're resilient, they're tough, they care about each other and they're all good sports on the field."
Part of the team's success can be attributed to the seamless transition of an additional leader at the top. But both Spruance and Chase will be the first to tell you that the majority of the credit goes to the players.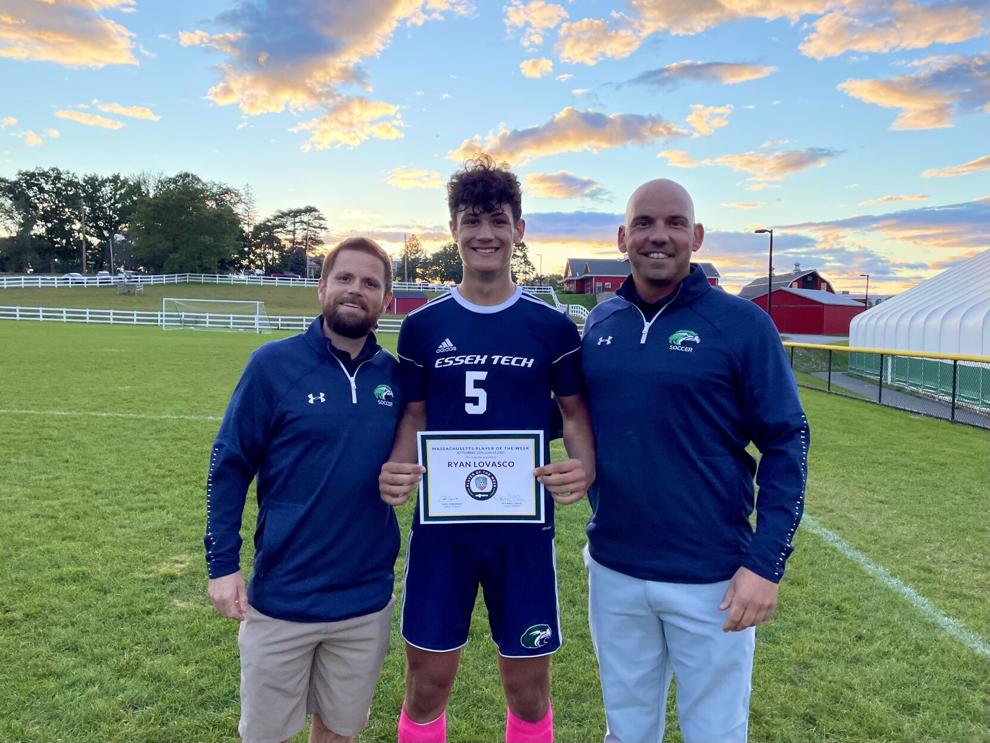 Essex Tech boasts a talented and leadership-driven group of 12 seniors, including captains Gavin Russell, Josh Berube, Mateus Lima and Austin Medico.
Russell began the season as a starting outside midfielder, but was forced to take over as goalkeeper when starter Guido Iannalfo went down with a knee injury. Russell has taken that role and run with it, making some brilliant saves, leading from the back and securing six shutouts in the process.
"Guido was a really good keeper for us; it was a huge loss," said Chase. "He was one of the best goalies I've coached. I mean, he can really play."
"Gavin has stepped up to the challenge and been our goalie ever since," added Spruance. "He's saved some PKs, has a bunch of shutouts, and the true test of leadership is that he's had to sacrifice an individual role to help out the team and he's done so without any complaints."
Berube is the team's top distributor, dishing out an area-best 15 assists thus far. The fourth-year standout is a model student to boot, standing in the top 10 percent of his graduating class. He was recently named the school's Student Athlete of the Month.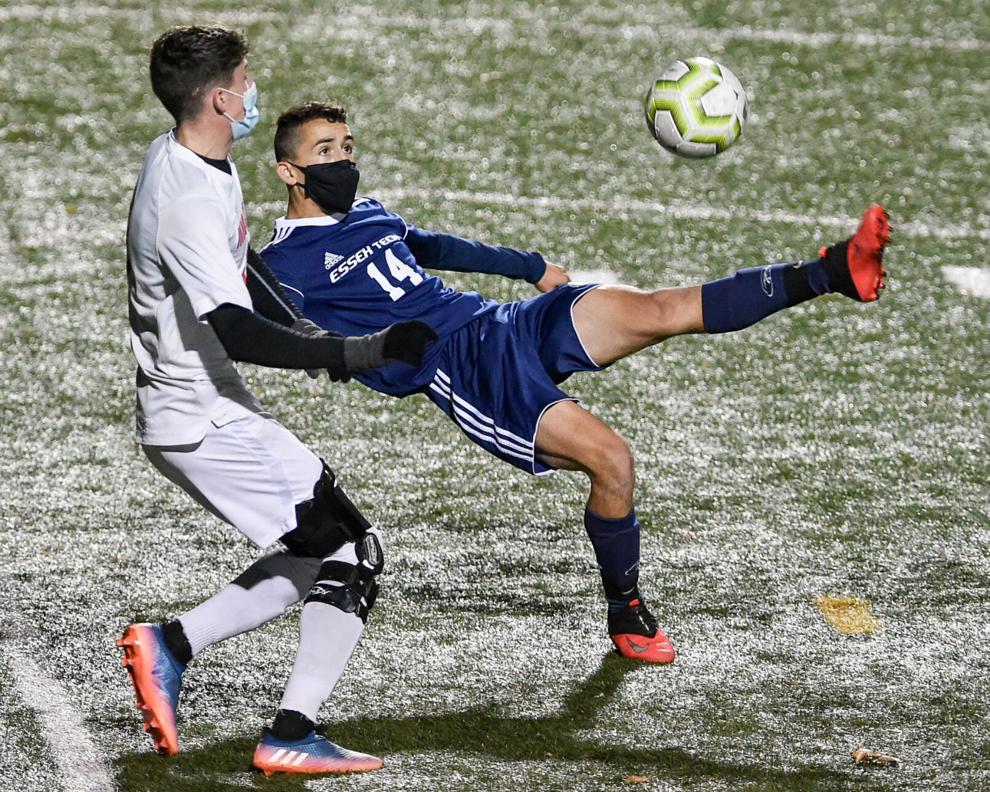 "He's been really good for us," said Spruance. "He's particularly dangerous on set pieces, throws or corners, and we're always looking to find him in the midfield."
Rounding out the captains is Lima, who's been a tremendous all-around scorer with 14 goals and five assists; and Medico, who serves as the team's starting center back and leader on defense.
"Austin's unbelievable back there," said Chase. "He keeps us together. He's fantastic."
It's worth noting that Essex Tech has regularly put forth a 3-man defensive set with Medico in the middle, freshman Thomas O'Brien on one side of him and senior CJ Borys on the other. Chase says that some of the best teams he's coached utilize that 3-back formation, and Spruance is completely on board.
The Hawks have a slew of other gifted athletes on their roster, but perhaps none of them have shined brighter than Ryan Lovasco. The junior star is up to a North Shore leading 17 goals and five assists on the season.
"He's not a kid that's scoring six goals against weak opponents; he's getting game-winner after game-winner," said Chase.
Fellow junior Peter Tsoutsouras is another workhorse in the midfield. While his numbers don't necessarily jump off the page, he's undoubtedly a vital piece to the puzzle.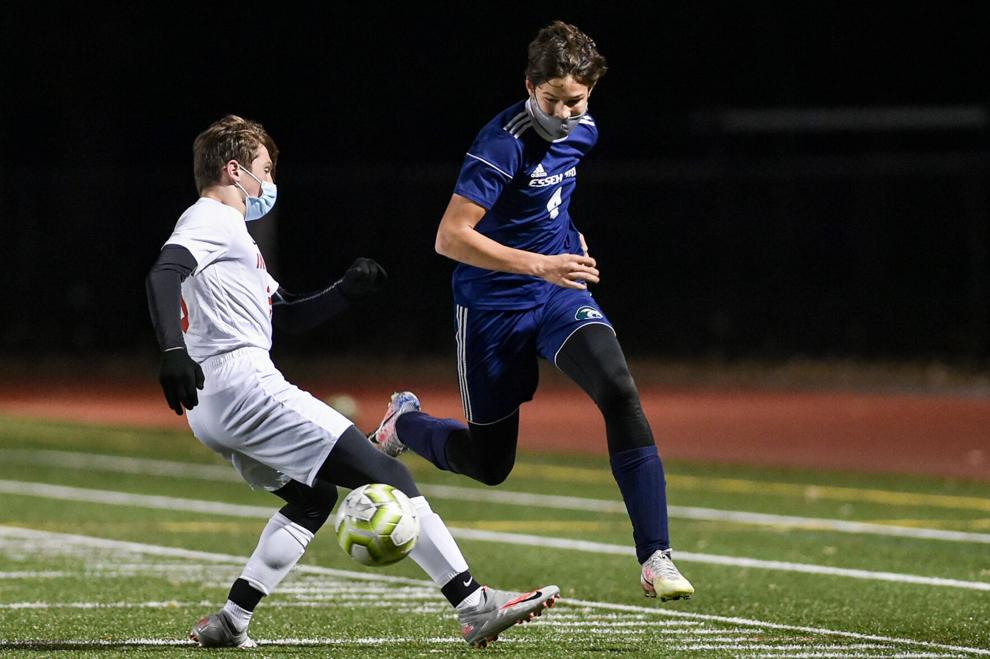 "He's always getting the hockey assists," said Spruance. "He's kind of our pivot point and always looking to distribute and keep the ball in our offensive end. He's on the shorter side but he has the most tenacity on the team. He goes into every tackle and wins most 50-50s."
The list goes on for the Hawks, with guys like freshman Kyle Heckman and seniors Alex Gallucci and Jack Pais regularly contributing.
With last week's 3-0 win over Northeast, Essex Tech has already clinched at least a share of the Commonwealth Athletic Conference title.
"The goal is to just be relentless the rest of the year," said Spruance. "If we can start with that attitude, then the accomplishments will come as they need to. We'd love to win the league (outright) and win the state tournament, but that's not the stated goal every time; more of a hopeful result for all the work we need to continue to put in."

Fresh off a 6-1 victory over Bishop Fenwick, Masconomet remains undefeated at 12-0. The Chieftains have now outscored their opponents by a whopping 60-6 margin, including seven shutouts. They have certainly been tested in recent weeks, however, earning tight wins over Beverly (3-2), Gloucester (2-1) and Danvers (2-0) before their convincing victory over Fenwick.

Congratulations to Salem for recording its first win of the season with a 2-1 decision over Salem Academy in the Witch City Derby Monday. Chris Qirjazi and Brandon Hopkins had the goals in the narrow victory.

Games to watch: Wednesday — Pingree at Phillips Andover (3:30); Peabody at Masconomet (4); Acton-Boxborough at Beverly (4); Thursday — Peabody at Bishop Fenwick (3:30); BC High at St. John's Prep (4); Hamilton-Wenham at Gloucester (4:30); Friday — Hamilton-Wenham at Ipswich (4); North Andover at Danvers (6:30); Saturday — North Andover at St. John's Prep (2); Bishop Stang at Bishop Fenwick (3:30); Monday (Oct. 18) — St. Mary's Lynn at Bishop Fenwick (4); Essex Tech at Hamilton-Wenham (4); Marblehead at Peabody (4); Tuesday (Oct. 19) — Hamilton-Wenham at Manchester Essex (3:45); Wednesday (Oct. 20) — Beverly at Danvers (4); St. John's Prep at Masconomet (4); Bishop Fenwick at Austin Prep (4).

POWER RANKINGS
1. Masconomet (12-0): The Chieftains face Peabody Wednesday and Winthrop Monday before a highly anticipated home bout against St. John's Prep next Wednesday (4 p.m.).
2. St. John's Prep (6-2-3): The Eagles continue to play phenomenal defense, allowing just one goal in their last four games.
3. Beverly (8-2): Their only blemishes remain a pair of competitive losses against unbeaten Masco.
4. Essex Tech (11-0-1): The Hawks continue to roll; looming matchups against Hamilton-Wenham (Oct. 18) and Masco (Oct. 22) will certainly test their mettle.
Corner Kicks is a weekly boys soccer column that appears in The Salem News during the fall season. Contact staff writer Nick Giannino at [email protected] and follow him on Twitter @NickGiannino_SN.