When the Mountaineers Have the Ball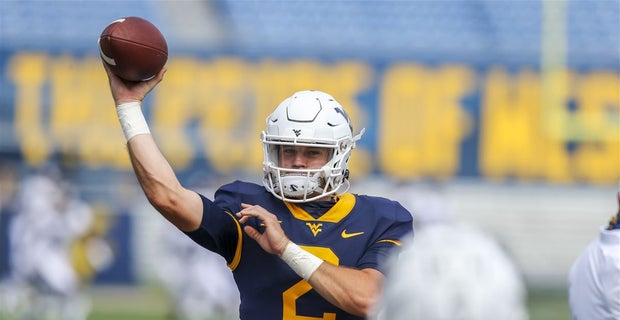 For West Virginia, this game comes down to quarterback Jarret Doege. If he plays well, they'll have a good chance to win.
If not, the simmering quarterback controversy in Morgantown, which features many fans absolutely clamoring for dual-threat youngster Garret Greene, will crescendo this week.
Doege reminds me a little bit of a very-very-poor-man's Ben Roethlisberger in that he is very comfortable hanging, hanging, hanging in the pocket, and if he scrambles, it's to extend plays, not to run. He's had 0 designed rushing attempts this season after totaling just 15 in 2020. On 71 dropbacks so far this season, he's taken off twice. The Hokies shouldn't need a spy in this game.
Doege completed 64% of his passes while throwing 14 touchdowns with just four picks last season, but he struggled in the bowl game against Army and followed it up with two bad interceptions in the loss to Maryland to open this season.
The key for Virginia Tech this week is to get pressure on Doege. This is true of most quarterbacks, but he has completed 64.7% of his passes when kept clean this season compared to just 38.5% when he's under pressure.
That's only two games, though, so if you wanted to go back to last year, he completed 70.3% of his passes when kept clean and 45.1% when under pressure. If Virginia Tech can get consistent pressure on Doege, they will be able to slow down this WVU offense a decent bit and probably force a turnover or two.
The problem for WVU is that their offensive line isn't that good at protecting Doege. They allowed 110 pressures last season. For comparison, Virginia Tech allowed 53. So far this season they are up to 12 pressures allowed and LT Brandon Yates is the main culprit once again. He's allowed five pressures in two games and allowed 27 all of last season, which was tied for the 11th most in the P5.
RT Parker Moorer and RG Doug Nester — oh, hello Nester — form a much more consistent pass blocking duo on the other side, and center Zach Frazier is an All-Big 12 guy, so if you're looking for a side of the line to keep an eye on for weakness, it's the left side. Could be a big day for Barno, although I'd almost let his 6 foot 6 frame block a passing lane over the middle at the snap, and then if Doege starts meandering around, close the gap quickly.
Through the air, Doege will be looking for a few primary receivers, who all very much look the part, especially Bryce Ford-Wheaton, who is 6 foot 3 and 220 pounds. Winston Wright Jr. is getting a lot of attention these days for his kick returns, but he's a dangerous slot receiver. And Sam James, Sean Ryan, and Isaiah Esdale round out a nice group.
As far as the overall scheme, it does have all the makings of a classic, Air Raid, spread-style Big 12 attack. They love to go four-wide out of the shotgun and run defensive backs through traffic, particularly rub routes and pick plays. Don't be surprised if you see Fuente blowing a gasket on the sideline Saturday over a missed call. Those plays get out of Doege's hands quickly, which negates the pass rush.
They also don't run much play-action — only 18 play-action dropbacks this season for Doege out of 71. Last season was about the same, with play-action of just 32.1% of dropbacks.
WVU will also use a ton of pre-snap motion to identify matchups. They'll even motion Brown way out wide to drag a linebacker out there with him. I fully expect the Hokies to pull MLB Dax Hollifield off the field in obvious passing situations because if they don't, West Virginia will use motion to find him.
One thing to keep an eye on with the passing game — drops. As a team last season, WVU had 31 total drops and four of the top 12 receivers in the P5 in terms of drops. Three of those guys are back this year, so it's something to keep an eye on. They have three drops as a team this season.
Finally, let's talk running game, and that's basically the Leddie Brown show. Brown rushed for 1,010 yards and nine touchdowns in 2020 and is approaching the 2,000-yard mark for his career.
He is a very good running back, probably one of the best the Hokies will face this season. Not a burner with his speed, but he's got great vision and picks his way to the second level pretty well. He particularly likes to go up the middle on either side of the center.
Last season, PFF had him at 41 carries between both guards and center — effectively 82 carries right up the gut. No other hole on the offensive line had more than 26 attempts (around the left end). So far this season, the trend holds up, with 14 total carries between either guard and the center, more than anywhere else. Virginia Tech's defensive tackles are going to need to play well on Saturday.