The U.S. Space Force isn't just placing cutting-edge technology among the stars: It's also placing it onto the bodies of its own service members, with wearable fitness trackers that will track sleep patterns, exercise habits and more.
The fitness trackers are just one of several moves the Space Force has recently taken to modernize the U.S. military, but experts worry that the trackers could create security issues.
In an August 16 memo, Space Force official Patricia Mulcahy announced that the force will soon ditch the annual fitness test used by the other military branches.
Instead, the force will use "wearable technology and a software solution paired with fitness/workout regimens and preventative health practices to increase self-awareness, provide continuous visibility into overall health and fitness, and motivate members and their leaders to increase performance," the memo said.
All members of the Space Force, called Guardians, will serve as beta-testers in a year-long evaluation period for the new technology.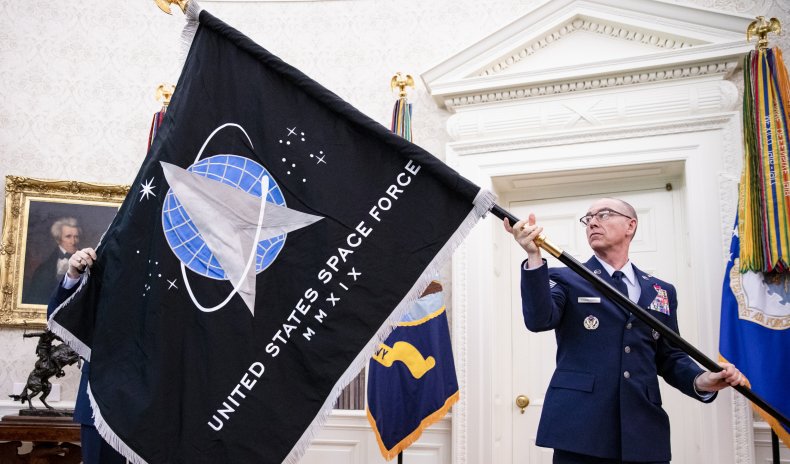 The Guardians will be wearing black health monitoring rings that have been seen on the fingers of several branch leaders, the military news website Task and Purpose reported. The rings monitor heart rate and can detect rest and exertion.
The wearable devices will be linked with software from FitRankings—a company based in Austin, Texas, which provides data graphics connected to various wearable fitness trackers, like Nike Run Club and Fitbit wrist devices. The company has previously worked with USA Cycling, USA Triathlon, Under Armour and the grocery store chain H-E-B, Air Force Magazine reported.
Space Force official Patricia Mulcahy said that the data from the devices won't be used to penalize or promote Guardians. Rather, the devices could categorize individual Guardians into a green-yellow-red light determining their physical "readiness," Space Force Chief Master Sergeant Roger A. Towberman said, according to the aforementioned publication.
The devices are also part of a larger program to focus on Guardian's mental and overall wellness. The data could also be used to issue group challenges, allow members of a team to see one another's progress or to ask individual Guardians simply to commit to exercise rather than specific fitness routines.
The continuous monitoring would be a change from the other branches' traditional habit of evaluating an individual's strength and endurance in a single test once a year. The change also makes sense considering that space operations mostly involve lots of sitting desk work, like "sitting at a satellite control console or monitoring missile launch data on a computer," Military Times reported.
However, the wearable devices could potentially create a security risk if FitRankings stores too much data. In 2018, the Pentagon released a memo telling service members not to wear fitness trackers because they could reveal compromising location data to enemies, Military.com reported.
The devices could also make Guardians feel that they're being constantly surveilled, Towberman said. Efforts are being made to reduce such possible risks or uneasiness about the devices, Towberman and FitRankings said.
The rings are just one part of the Space Force's recent efforts to modernize the U.S. military.
The 2022 defense spending bill also includes $1.3 billion for the Space Force to fund technology development projects that will help it keep ahead of America's two largest adversaries in space: Russia and China.
The countries have already tested anti-satellite missiles, devoting high-energy lasers to attack satellites, according to the technology publication Wired.
As such, the Space Force wants to develop a national security space architecture that is less vulnerable. Such architecture could involve "redundant systems in multiple orbits," increased protection against cyber attacks and reduced reliance on single-point ground control centers, military news site Breaking Defense reported.
Newsweek contacted the Space Force for comment.