After rallying strongly in 2021, shares of Advanced Micro Devices (NASDAQ:) seem to have lost their mojo. So far this year, the California-based chipmaker lost about 22% of its market value.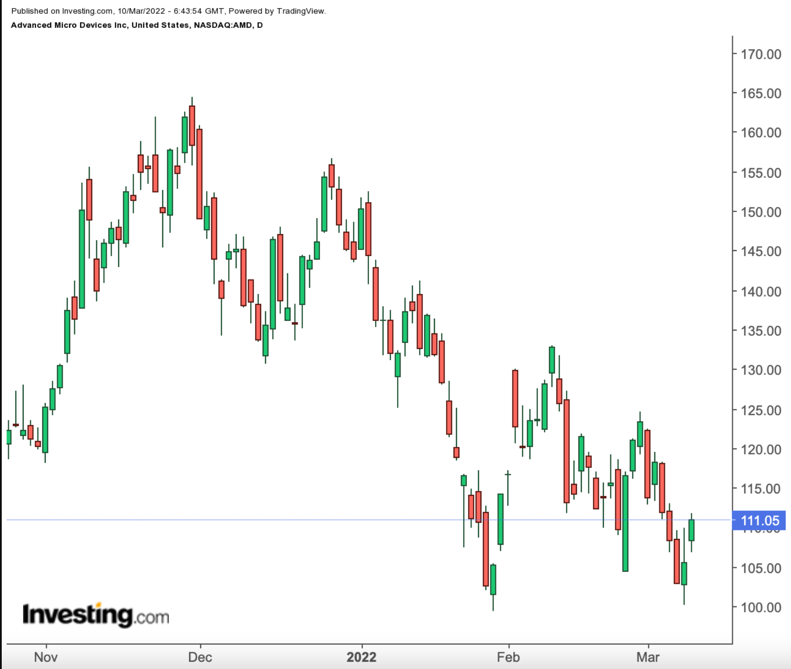 However, the steep decline makes investors wonder: has this pullback gone too far?
There is no doubt that AMD is not a favorite stock to own when the environment is becoming increasingly hostile for high-growth companies.
The US Federal Reserve is about to reverse its monetary easing at a time when is at a four-decade high level. In addition, the Russian invasion of Ukraine and its impact on the global commodity supply is another shock that could push the global economy into a recession, depressing demand for everything.
But the good news for AMD bulls is that other than these macro risks, the company is firmly on its growth path, consistently taking market share from its biggest competitor Intel (NASDAQ:).
The chipmaker's sales outlook is quite strong, indicating that AMD is close to reaching Intel's profitability levels—something that would have been inconceivable just a few years ago.
AMD told investors in February that its gross margin—the percentage of sales remaining after deducting production costs—will be about 51% this year. That's nearly on par with Intel's projection of 53%, a significant turnaround compared to five years ago when Intel boasted a margin of more than 63% and AMD was at 31%.
Moreover, advances at Taiwan Semiconductor Manufacturing (NYSE:), which makes chips on AMD's behalf, are propelling the company's competitiveness in computer, gaming console, and data center spaces, further challenging Intel's long-time leadership.
Strong Demand From Data Centers
That outsourcing strategy helped AMD when Intel suffered a series of manufacturing setbacks, repeatedly falling behind in introducing new chips. After last month's earnings report, AMD Chief Executive Officer Lisa Su told analysts that her company is on track to gain market share as new products become increasingly popular.
AMD data center sales, including chips used by companies such as Alphabet (NASDAQ:) and Amazon (NASDAQ:), doubled last year compared with 2020. In the latest earnings report, AMD said that demand from its cloud customers is increasing, deploying its Epyc server chips in their data centers.
AMD is also the second-largest maker of graphics chips used in add-on cards by PC gamers. It supplies graphics chips used in Microsoft's (NASDAQ:) Xbox and Sony's (NYSE:) PlayStation. Demand for the two-game consoles "continues to outpace all prior generations," AMD said in slides prepared for its earnings call.
This strength has prompted many analysts to upgrade their forecast on AMD in recent weeks. In an Investing.com poll of 40 analysts, 26 gave an "outperform" rating on the stock, with a 12-month price target that implies 36.15% upside.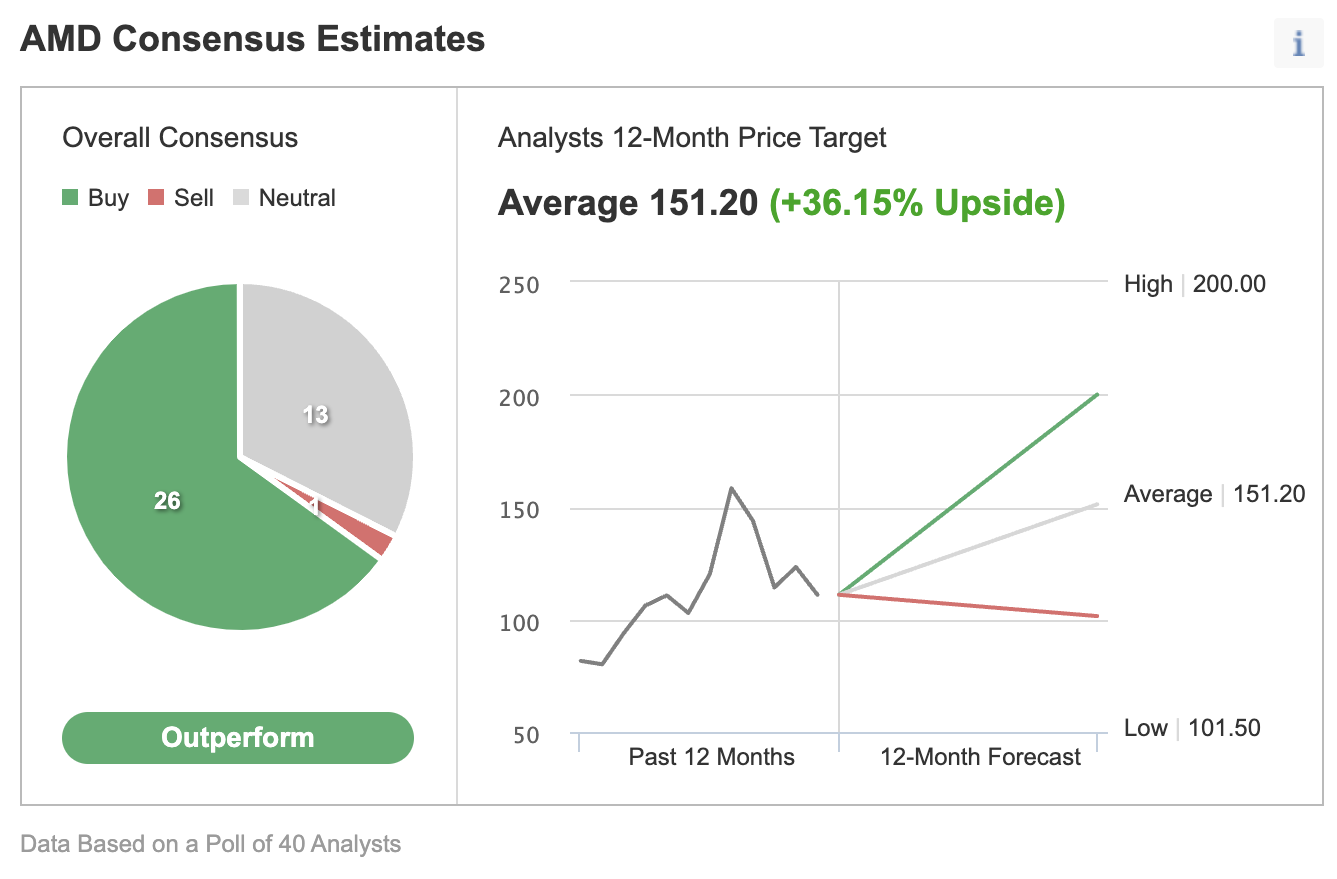 Source: Investing.com
In a recent note, investment firm Bernstein also upgraded the chip-maker to "outperform" from market-perform, saying that the stock might be too attractive to pass up. Its note says:
"With the combination of continued stellar execution, increasingly bankable earnings power, and a recent sizeable pullback, making valuation (dare we say?) downright attractive, we are, for the first time in almost a decade, pulling the trigger."
Bernstein kept its price target on AMD at $150 per share, which is nearly 43% above where the stock closed on Tuesday, adding:
"Amazingly though, the company's own execution has done nothing but improve. Forward EPS estimates have actually increased by almost 30% since that peak just a few months ago, with more than 100% of the stock's decline attributable to multiple compression with [price to forwarding earnings] down almost 50%."
Bottom Line
Except for macro risks, it seems everything else is going right for AMD. In our view, its current weakness opens a door for long-term investors to build their position. That said, the stock is unlikely to offer the kind of hefty returns that investors made last year when the global economy was on a different path.