While the move was announced way back in 2020, Microsoft finally brings its DirectStorage API to Windows. The tech plays a crucial part in its crown jewel Xbox Series X; it now aims to bring game load times to mere seconds for PC gamers.
Microsoft released the news in a blog post, mentioning that the tech is now available for developers to use. Moreover, Windows games will now ship with DirectStorage. To make things precise, with the new tech, gaming on PC will see massively reduced loading times while providing more detailed and expansive game worlds.
For the uninitiated, DirectStorage API comes from the long line of the DirectX family. The DirectStorage API helps bring the incredible read and write speeds of NVMe SSDs to PC gaming. While the tech is not new, both Sony's PlayStation and Microsoft's Xbox have different ways to improve the I/O speeds of their respective consoles. While Sony has a reliable hardware approach, Microsoft has taken on both software and hardware to bring NVMe SSD speeds to its game console. This, in turn, is what allows Microsoft to incorporate the same into PC gaming.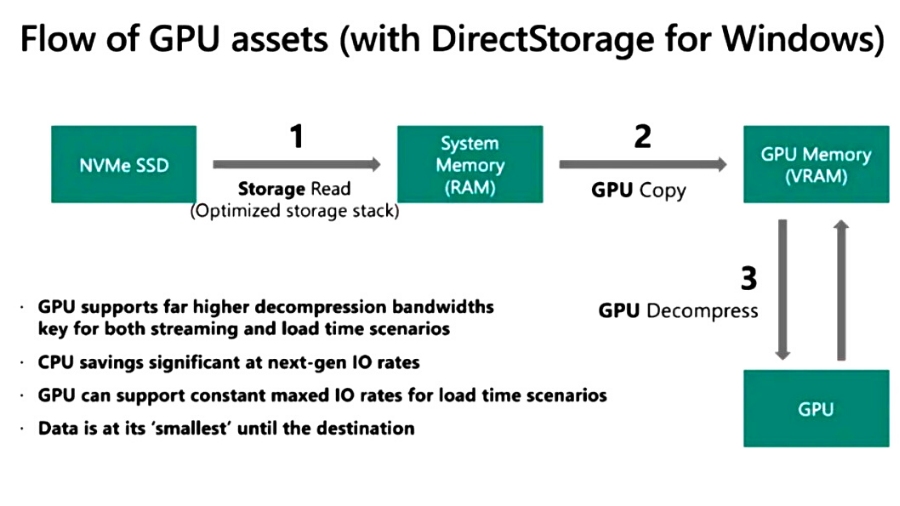 Sure, Windows uses the NVMe SSD to boost read and write data speeds; however, to incorporate the same in PC gaming, Microsoft needed to bridge the gap. Comes DirectStorage API, which taps into how a GPU interacts with the SSD, making faster data transfers.
Meanwhile, before you go on to stick NVMe SSDs into your motherboards, know that the games aren't available yet. Also, it's not clear which game would incorporate the DirectStorage API. At the same time, Microsoft made it clear that the technology is compatible with older hardware and Windows 10. However, Windows 11 will take full advantage of DirectStorage API since the tech is made with Windows 11 in mind. Interested parties can download DirectStorage API from Microsoft's website.