Connected Car, Software Development and Autonomous Driving are the three most repeated words in the automotive industry. It's hard not to notice that all three are basically different use cases heavily dependent on different kinds of software: cloud, AI, edge computing, or internal applications. Analysts, investors, management, and even regular employees of OEMs seem to believe and agree that software is the future of the automotive industry. But why?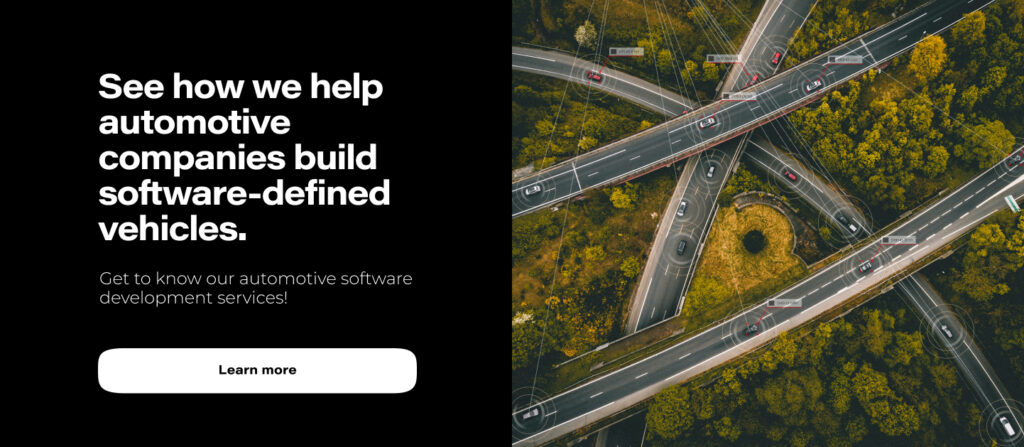 Automotive software – how did we get there?
To understand the origins of this trend, let's briefly look at the last 20 years of automotive history. On the market, where 99% of vehicles were based on combustion engines, a new entrant appeared. Tesla Motors Inc. A company with no background in building cars, named to pay tribute to the well-known electrical engineer, Nikola Tesla. A year later, famous entrepreneur, Elon Musk, decided to invest in this dream of building electric vehicles for the masses.
Fast forward to 2012 and we have the world premiere of the Tesla Model S. The Electric Vehicle, being the biggest disruption in the automotive industry in years, immediately receiving several automotive awards, including Car of The Year. Designed and developed by a company with 10 years of experience on the market and literally, a single vehicle developed earlier (the original Tesla Roadster). This showed that there is a big, unoccupied market for electric vehicles.
Just a year later, the Tesla Autopilot was introduced, and the whole world joined the hype for autonomous driving.
Why did Tesla get so popular?
It was not just because the market desperately needed an electric vehicle. Since the beginning, Tesla has been designing its cars to be software-centric. Big on-board CPUs from Nvidia support, not just Autopilot but also a multitude of applications and services available in the largest (at the time at least) central screen of a road car.
And the software has been updated very often using Over-The-Air upgrades,  giving the customers the feeling that the software was always fresh and the producer quickly reacted to feedback with new changes. Effectively, making the software a major selling point.
Electrification
Apart from the software-defined vehicle focus, electrification started as a solution to reduce the CO2 footprint of the industry. Both BEV and PHEV vehicles development was caused partially by new legislation and sustainability requirements, and partially of course by the success of Tesla. The EVs offering is increasing year by year, and most of the brands announced the potential timeline of reducing the combustion engines offering to 0 models.   
The industry today
It seems like all of the large OEMs treated Tesla as their very own R&D department and allowed the company to conduct the world's biggest ever market study. Tesla was able to prove that people actually care for the CO2 emission and want to drive electric cars and also showed that software in a vehicle may be more appealing to end-users than the sound of V8.
On the other hand, we compared Tesla to an R&D department because their cars are not always built with top quality and software sometimes have glitches – all in all, it's a tremendous idea, but not an ideal car. VW Group, Toyota, or Stellantis could never afford to make such mistakes.
Software defined-vehicles became a real future trend, not when Tesla S was first shown to the world. That happened when all of the world's top OEMs decided that enough is enough, the experiment was over and the time to "productionize" Tesla's "concept" had come.
And here we are today, a few days after Stellantis Software Day, an investor meeting purely focused on the Software-Defined Vehicles and their new platform, STLA (pronounced `Stella`). A few months after Mercedes-Benz announced that they are hiring developers to work on their own Operating System, MB.OS, as part of a greater "Digital First" brand strategy. A year after the CARIAD by Volkswagen Group was fully defined to provide unified software platforms for all vehicles in the group, called ODP (One Digital Platform) or VW.OS and VW.AC (VW Automotive Cloud). 
Everyone is fully committed. But what exactly is the automotive industry committed to? Let's dissect the latest event, Stellantis Software Day, to see the core topics they want to focus on in the next few years.
Disconnecting hardware and software lifecycle. 
Broadening the scope of software in the vehicle.
OTA software updates for adding new features.
Using software to create a unique offering for all brands in the group.
Connected Car data monetization.
Software to support EV and sustainability.
#SWDAY21Stellantis | Carlos Tavares, CEO: "We are transforming #Stellantis into a #tech #mobility company. We owe it to our customers. We owe it to our Brands. We owe it to the principle on which #Stellantis was founded". pic.twitter.com/iMYHSLpMwL

— Stellantis (@Stellantis) December 7, 2021
Those are predicted to generate ~€20B in incremental annual revenues by 2030. That, of course, partially answers the "why?" question, but is there more to it?
Coming back to why
If we summarize the situation, we see that electrification and disruption forced the industry to change. The side effect of electrification is making the previous key differentiator – powertrain – much less important. With electric vehicles, the engines are not the key. Most of them are very similar and technology focuses more on batteries. This makes the different models similar, especially in terms of acceleration and horsepower.
So, where is the differentiator? Where do companies look for unique selling points for their brands, and how do they separate the offering of different models when the platform is almost exactly the same?
As you might have already guessed – that is the software. Of course, it's not just electrification, the other key aspect is also digitalization of our lives, but the disruption already happened and the industry tries to follow.   
The people fueling the future of automotive software
Certainly, when everyone decides at the same time to do a similar shift, it can get complicated rapidly. From the resourcing perspective, in the market with such a shortage of skilled software engineers, when everyone tries to quickly build their software competencies, it cannot come without problems. Hiring an experienced software developer is hard, and it gets harder if a company is fully focused on vehicle manufacturing, with a limited budget for IT and IT recruitment departments. The problems with building teams can result in delays in project start or extending their timeline.
This is where partnerships with companies like Grape Up come into play. Partnering with a software development company with strong experience in the automotive industry can help mitigate those issues – having skilled engineers available to help frame the project, architect, develop, and productionize significantly reduces the risk of shifting towards software development, and in the meantime also allows to train internal staff by working together, hands-on, on the actual projects.
The end
We are an endangered species, you and me. We fans of speed, we devotees of power, we lovers of performance and beauty, and mechanical soul. We dare not speak of cams or cranks or double wishbones. We fear for our love of roaring V8s and the smell of burnt rubber. We're told to think of the economy, the environment, and not excitement and enjoyment. In an age of hybrid-this and automatic-that, we are the odd ones out. Yet there is hope. There is a haven. A place that celebrates speed, grip, gears, and fun. And it's all here for you to explore.
Jeremy Clarkson