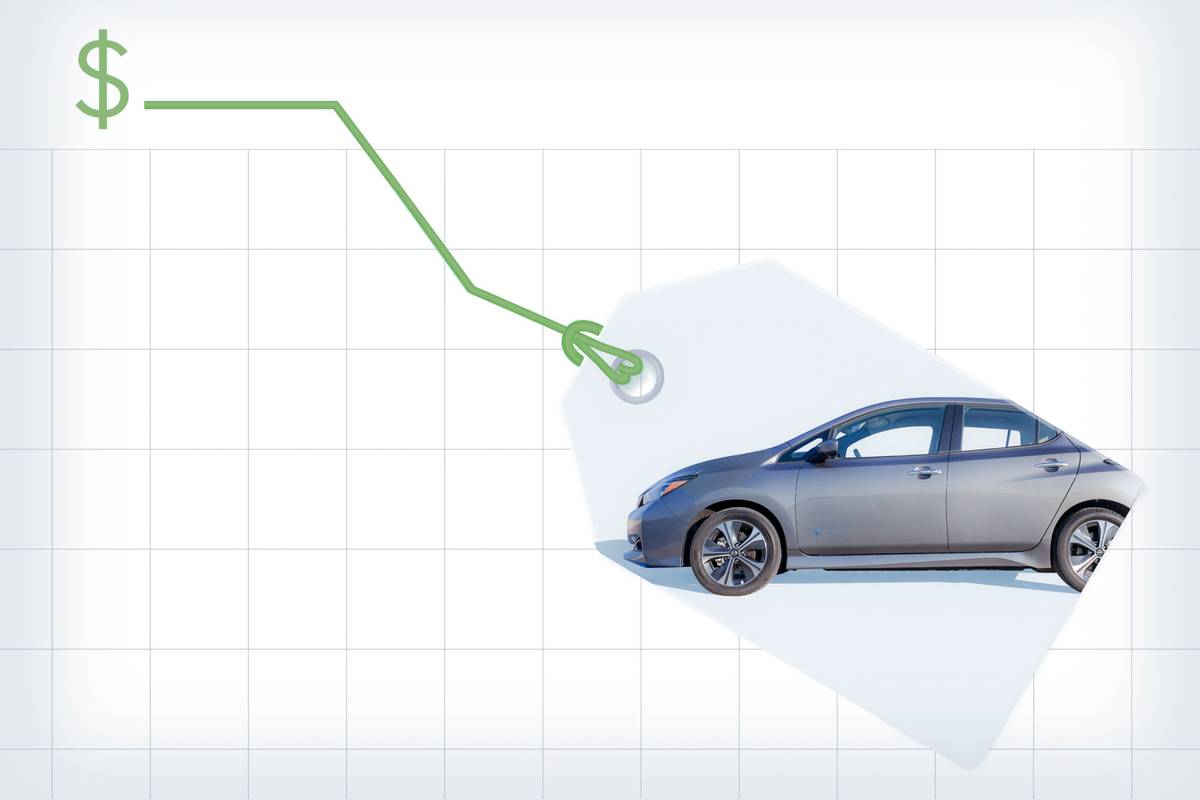 Cars.com illustration by Paul Dolan
So you've decided to take the plunge on an electric vehicle, but you'd like to keep the ante down for getting into the game. There are lots of good reasons not to spend the kids' college fund to get the fanciest EV — namely, sending them to college.
Related: Electric Vehicles: Understanding the Terminology
You might be just looking for an efficient second car for city use or commuting in high occupancy vehicle lanes, where it makes little sense to pay top dollar for 400 miles of range when a 200-mile EV would serve your needs. Or you might have figured out (accurately) that by the time your new EV's lease or loan is finished, a wider selection of EVs with much improved technology will be available. Or the higher-than-expected cost to install Level 2 home charging, all but essential to owning an EV, might have tightened your budget for the car itself.
Whatever your reasons, there are EVs available now that won't break the bank, though they're generally still more expensive than comparable gasoline vehicles. Note that availability can be relative for EVs. Some are sold only in certain states, while others require a reservation for delivery weeks or months later. 
Below are 11 of the cheapest EVs you can buy, listed by starting price (including destination). The prices do not include the federal government's plug-in tax credit — currently $7,500 for qualifying taxpayers on most electric cars — nor any state or local subsidies. (The federal subsidy has run out for Tesla and GM because both have more EVs than the sales cap for the credit.) There are proposals to raise the cap and tinker with it in other ways, but nothing has changed as of this writing.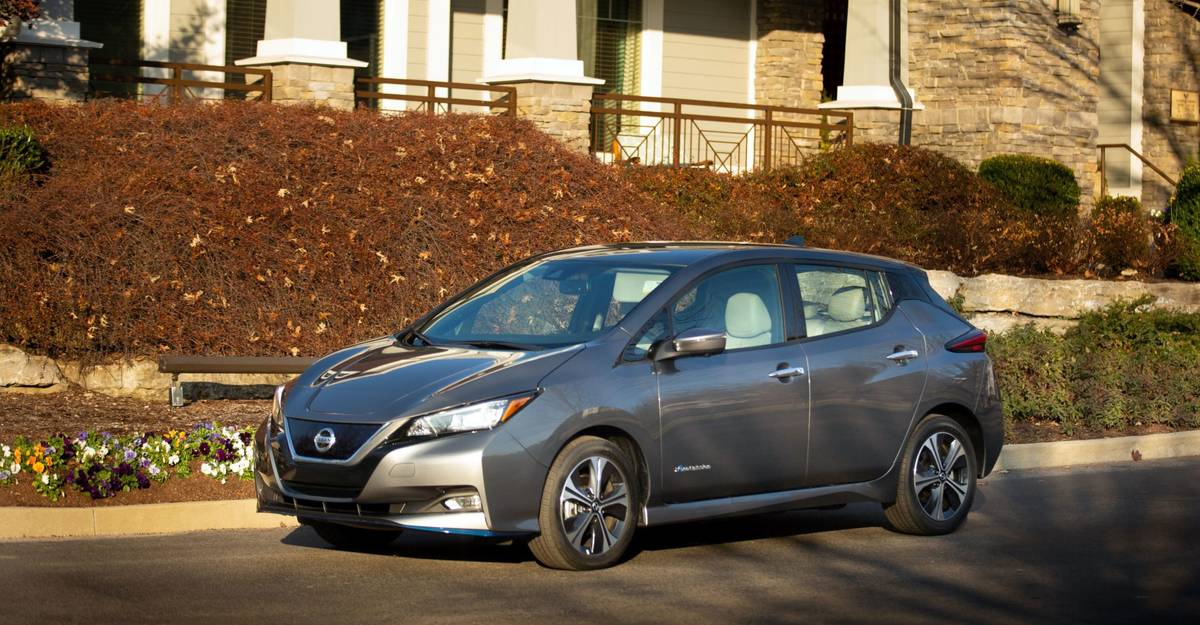 2022 Nissan Leaf | Manufacturer image
Starting price: $28,375
Nissan-estimated range: 149-226 miles (EPA estimates TBD)
Eligible for federal plug-in tax credit? Yes
The news for 2022 is that the standard-range Leaf has gone on sale with a price cut of more than $4,000 for the base trim level, called the S. That makes it currently the most affordable new EV you can buy. The small four-door hatchback was one of the first fully electric vehicles available nationwide when it rolled out in the U.S. as a 2011 model; over the years, the Leaf has improved with more range and added safety tech. It also got a longer-range sibling, the Leaf Plus, with a bigger battery. The standard-range Leaf has a 40-kilowatt-hour battery and modest 147-horsepower electric motor. The interior has few frills but does have a standard 8-inch touchscreen with navigation, Apple CarPlay and Android Auto. In addition to the price cut for 2022, Nissan also added a standard fast-charging port and portable 240-volt charging cable to sweeten the deal. 
The Leaf Plus, meanwhile, has a 62-kWh battery, a significant range boost and a more livable 214-hp motor. It comes in three trim levels, all with substantial price cuts for 2022 — they start under $40,000 — as well as a standard fast-charging port and portable 240-volt charging cable. The base S Plus has the longest range of the three at 226 miles; both upper trims have a range of 215 miles. (Note: All ranges remain estimates from Nissan, albeit carryovers from what the EPA published for the 2021 Leaf. As of this writing, published EPA ratings for 2022 are pending.)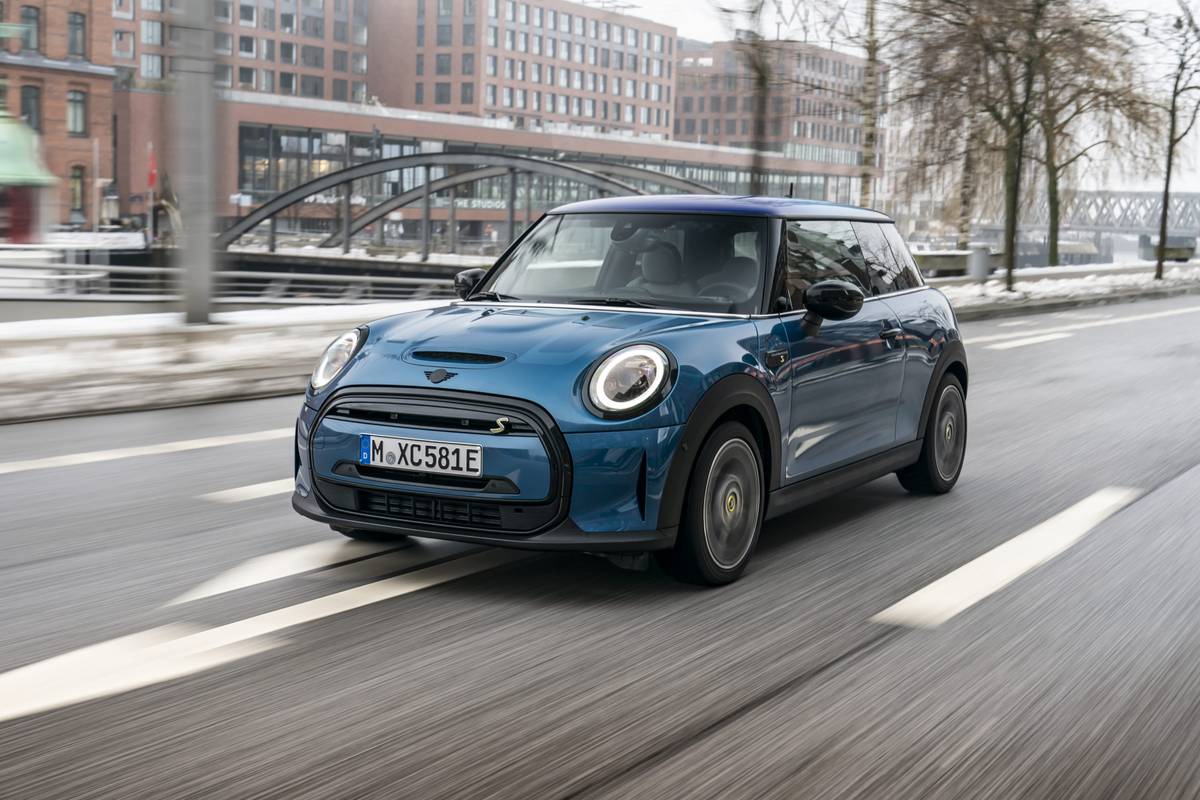 2022 Mini Cooper SE Hardtop | Manufacturer image
Starting price: $30,750
EPA-estimated range: 114 miles
Eligible for federal plug-in tax credit? Yes
Formerly the cheapest EV in America, the Cooper SE Hardtop — a two-door, four-seat hatchback — has been undercut for 2022 by the Leaf. The Mini has relatively limited range but plenty of miles for daily use. With its sporty looks and driving manners, 181-hp electric motor (good for 0-60 mph in 6.9 seconds) and small size, the Cooper SE Hardtop could appeal to shoppers looking for a fun urban runabout or second car. And while range is limited, Mini says the 32.6-kWh battery can be charged with 7.4 kilowatts of AC capacity in about four hours on a Level 2 home or public charger. The 2022 edition also shares the exterior, interior, tech and multimedia freshening that the conventional Mini Hardtop and Convertible models got for 2022. In addition to the base Signature trim level, the SE offers two higher trim levels plus a range of personalization options.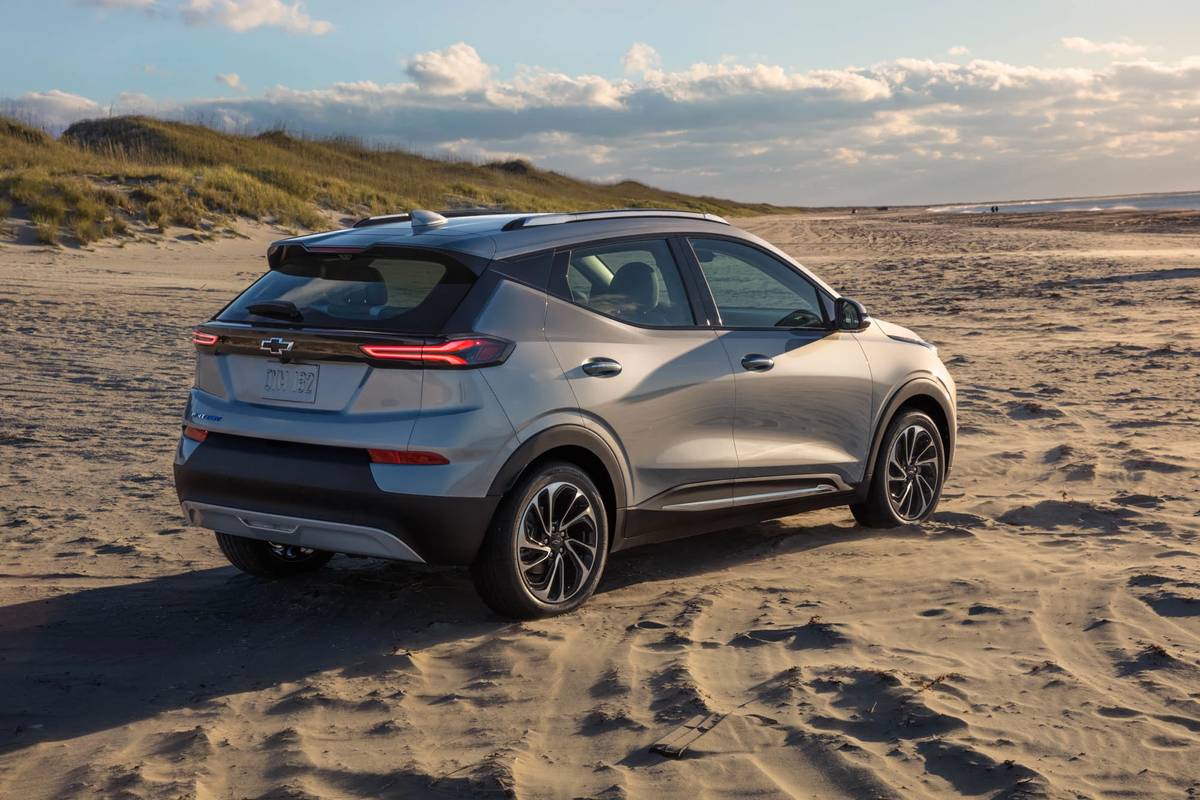 2022 Chevrolet Bolt EUV | Manufacturer image
Starting price: $31,995
EPA-estimated range: 247-259 miles
Eligible for federal plug-in tax credit? No
For 2022, Chevrolet's small electric hatchback got freshened looks and a big cut of more than $5,000 in starting price. Parent automaker GM also is offering to help buyers with the cost to install a 240-volt home charger — an added value proposition to help offset GM's loss of federal credits that rival EVs can still get. The Bolt EV also got a new sibling for 2022, a slightly larger SUV-ish version that Chevy calls the Bolt EUV.
The biggest styling change for the Bolt EV is a more upright front end that has "high-eye" daytime running lights and turn signals with headlights lower down. Inside, it has new seats and a new instrument panel with a standard 10.2-inch touchscreen and available 8-inch gauge display. A new shifter design uses toggles and buttons. Most safety tech is standard, with a rear cross-traffic alert, a 360-degree camera system and adaptive cruise control optional. DC fast-charging capability is now standard, and the 2022 Bolt EV also comes with a new dual-level charge cord that can be used with a 120-volt household outlet or a more powerful 240-volt home outlet, such as what you might find for a clothes dryer. The Bolt powertrain carries over with a 65-kWh battery and 200-hp electric motor.
The Bolt EUV, meanwhile, shares the same platform and powertrain, but with about 6 inches more length, more space and slightly less range. While a bit more expensive than the smaller Bolt EV, the EUV's starting price still is lower than the 2021 Bolt EV. Although the two Bolts look similar, Chevy says they share no exterior sheet metal. Interior styling and features are similar, but the EUV is the first Chevy to offer GM's Super Cruise driver-assist tech for hands-free driving on compatible roads; it's a $2,200 option and only available on the more expensive trim level, Premier. Like the Bolt EV, the EUV has a standard fast-charging capability and new dual-level charge cord.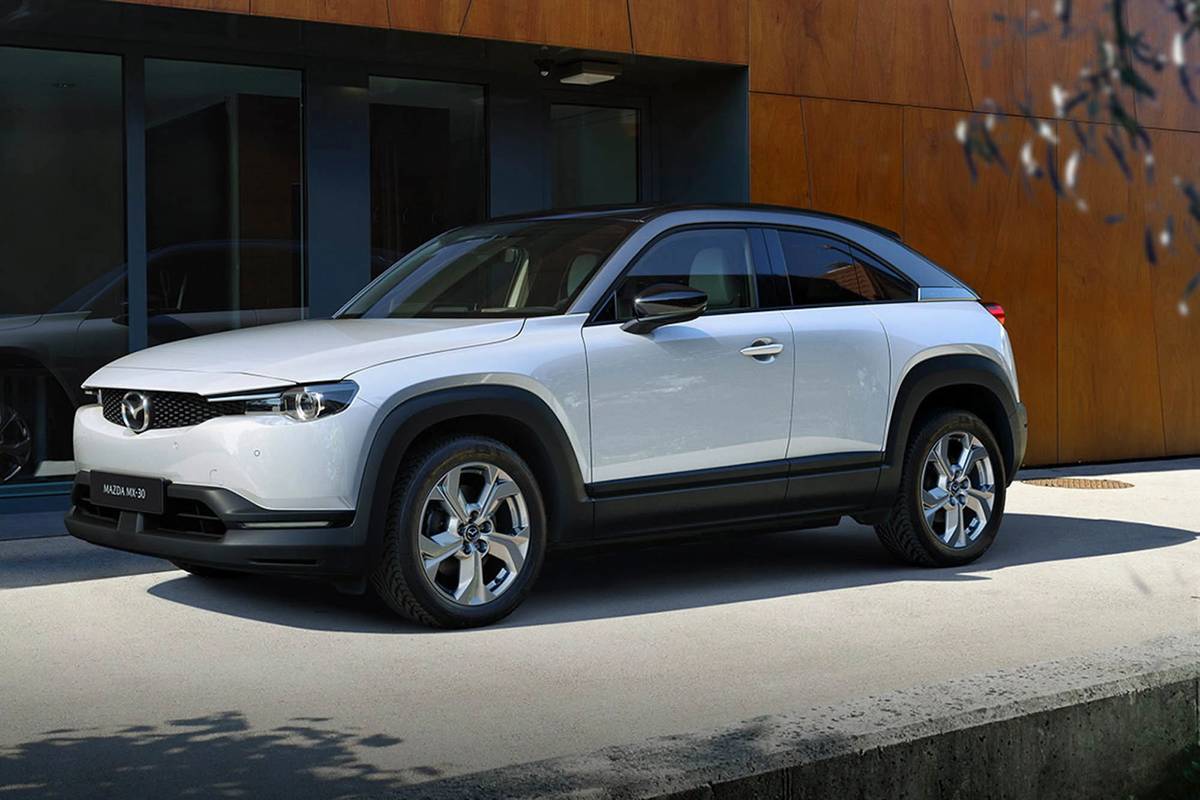 2022 Mazda MX-30 | Manufacturer image
Starting price: $34,645
EPA-estimated range: 100 miles
Eligible for federal plug-in tax credit? Yes
Mazda's first full EV sold in the U.S., the MX-30, goes on sale in California in October with a national rollout in the works "over the coming years," the automaker said. The MX-30, an SUV-like hatchback, sports a coupelike roof design with rear-hinged half doors and minimalist interior. Inside, environmentally friendly materials include cork in the center console, animal-free upholstery and recycled plastic bottle fibers for the door trim.
The CX-30's electric motor makes 144 hp and 200 pounds-feet of torque. It draws power from a 35.5-kWh battery and drives the front wheels; AWD isn't offered. Overall EPA-rated range — at just 100 miles — is underwhelming even among affordable EVs like the Leaf and Bolts. Mazda throws in a few other perks, however, such as a preset number of complimentary loaner vehicles for road trips and $500 in ChargePoint credits for public charging or toward the installation of a Level 2 home charger.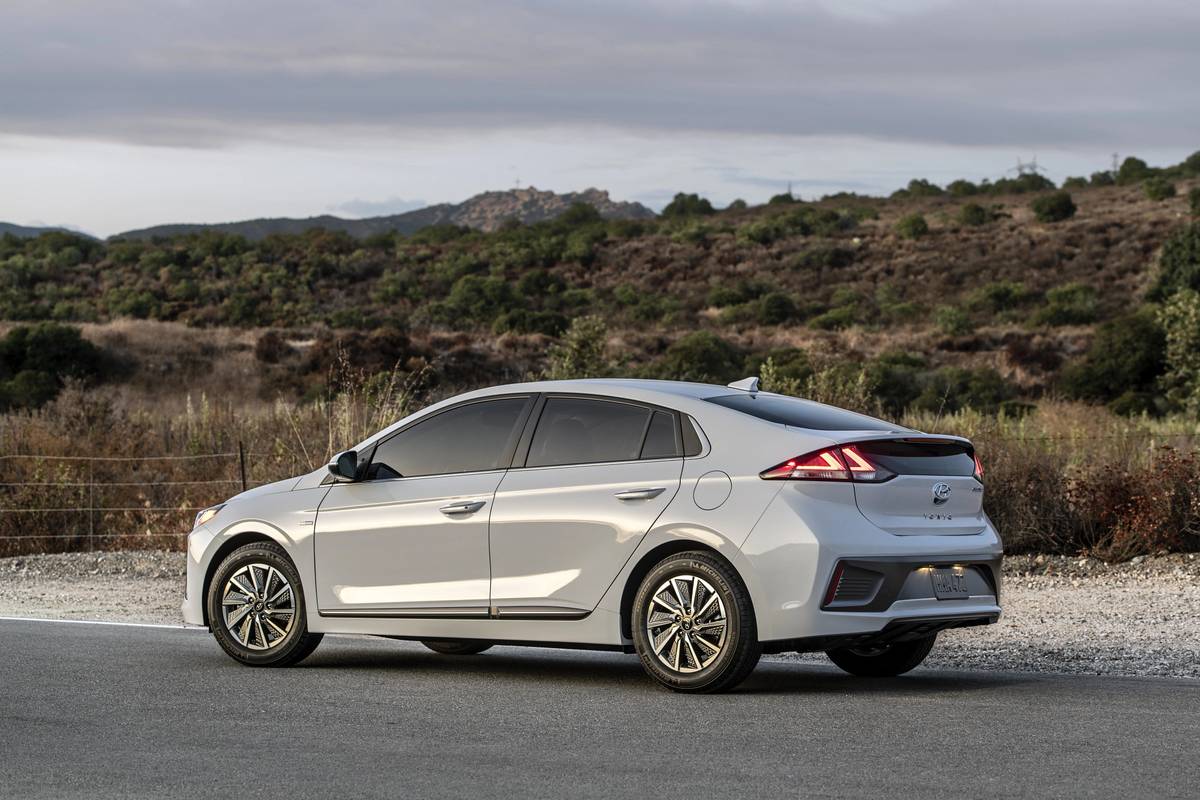 2021 Hyundai Ioniq Electric | Manufacturer image
Starting price: $34,650
EPA-estimated range: 170 miles
Eligible for federal plug-in tax credit? Yes
This four-door compact hatchback is part of Hyundai's electrified-only Ioniq line of vehicles, though it's also offered as a gas-electric hybrid or plug-in hybrid. The EV version got a range boost for 2020 to 170 miles, from the previous 124, to be more competitive. The Ioniq has a pleasant, fairly roomy interior, and the 2020 freshening also brought a standard 8-inch touchscreen with Apple CarPlay and Android Auto, plus a standard bundle of formerly optional safety and driver assistance tech, including automatic emergency braking and adaptive cruise control. Lane-centering steering, a blind spot warning system and a 10.25-inch touchscreen with navigation are optional. The FWD hatchback has a 38.3-kWh battery and a 134-hp electric motor; DC fast-charging capability is standard. 
A larger Ioniq 5 electric SUV is expected to join the Ioniq line later in 2021. With its arrival, along with the freshened 2022 Kona Electric (see below), the electric version of the Ioniq hatchback is being retired after the 2021 model year, though the hybrid and PHEV live on. The Ioniq Electric is offered at dealers in a limited number of states, primarily those with required targets for zero-emission vehicle sales.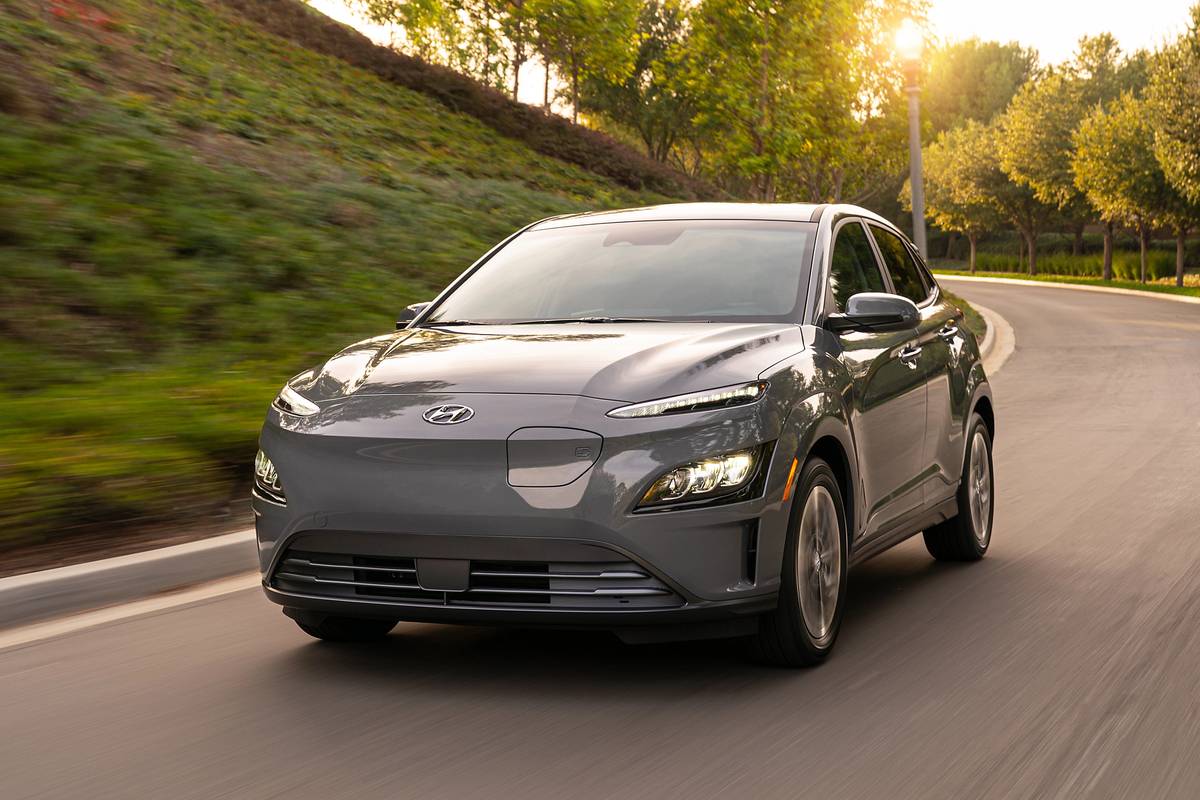 2021 Hyundai Kona EV | Manufacturer image
Starting price: $35,185
EPA-estimated range: 258 miles
Eligible for federal plug-in tax credit? Yes
This four-door subcompact SUV is mostly similar in styling and interior layout to the gasoline Kona: It's comfortable in front, but tight in the backseat and cargo area. The Kona Electric has a 201-hp electric motor driving the front wheels, a 64-kWh battery and DC fast-charging capability that can go from 10% to 80% charge in as little as 47 minutes. The Kona line has been freshened for 2022, and the Kona Electric got its own styling updates and wheels, plus interior changes that include a 10.25-inch touchscreen, a 10.25-inch instrument display and a redesigned center console with wireless charging capability. Hyundai says the powertrain and range will carry over into 2022, which will be on sale soon at a starting price more than $3,000 below that of the 2021 model. The Kona Electric is offered at dealers in a limited number of states, primarily those with required targets for zero-emission vehicle sales. A larger Hyundai Ioniq 5 electric SUV also is expected on sale later in the 2021 calendar year.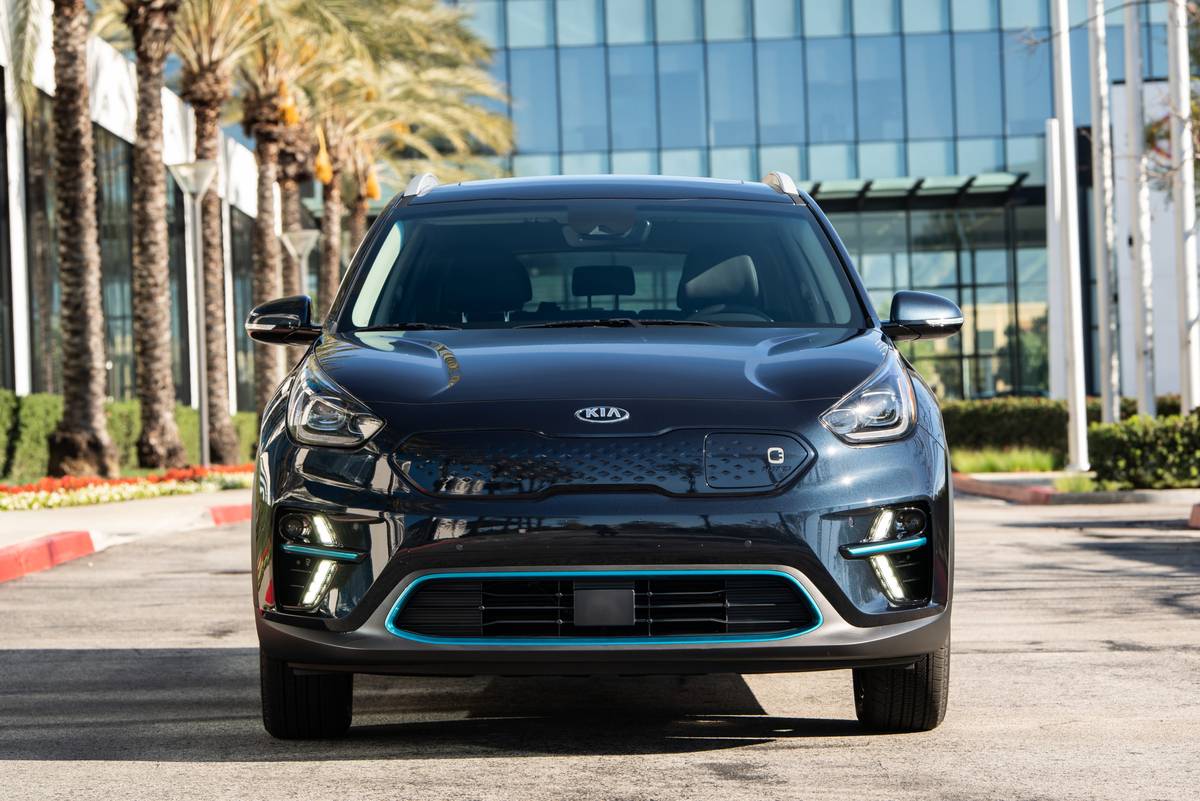 2021 Kia Niro EV | Manufacturer image
Starting price: $40,265
EPA-estimated range: 239 miles
Eligible for federal plug-in tax credit? Yes
Kia's Niro EV is part of a line of electrified-only hatchbacks that also includes hybrid and PHEV versions. The EV model shares a 64-kWh battery and 201-hp electric motor with the Hyundai Kona Electric (Hyundai and Kia are affiliated automakers), but the more family-friendly Niro has a larger backseat. The Niro was refreshed for 2020 and largely carries over for 2021 with the addition of wireless Apple CarPlay and Android Auto. A full bundle of driver assistance tech is standard, and DC fast-charging capability is up to 100 kW.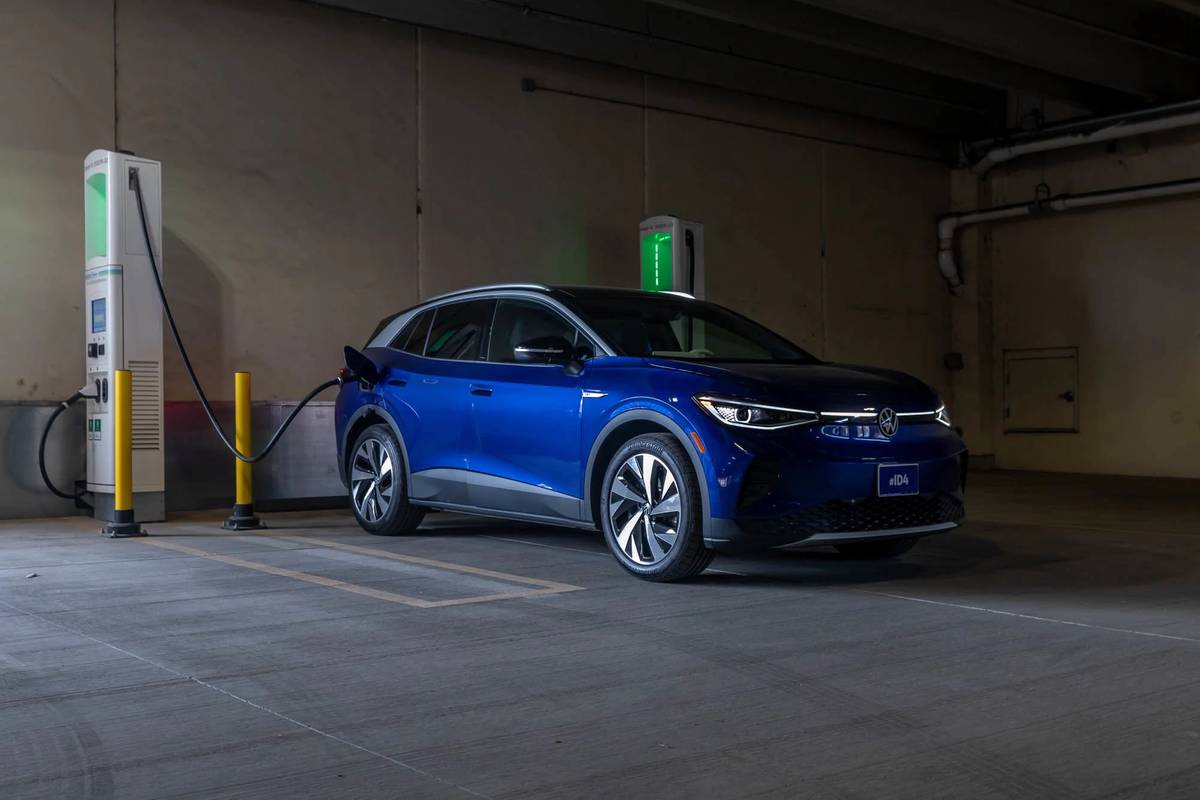 2021 Volkswagen ID.4 | Cars.com photo by Christian Lantry
Starting price: $41,190
EPA-estimated range: 250-260 miles
Eligible for federal plug-in tax credit? Yes
The ID.4 is a new small SUV that's fairly roomy for its size. It's also one of the more fun-to-drive and smooth-riding mainstream EVs, though the bar is pretty low on ride quality for mass-market EVs. City drivers also will appreciate a notably tight 33.6-foot turning diameter. The interior has a clean design and decent quality, though part of the design involves touch-sensitive controls we found frustrating to use. A 10-inch touchscreen is standard, with 12 inches optional. Cars.com's independent testing of cargo capacity found 18.9 cubic feet behind the backseat, more than our results in the Ford Mustang Mach-E but notably less than in the Tesla Model Y.
The base RWD ID.4 Pro has an 82-kWh battery and 201-hp electric motor, with modest acceleration (0-60 mph in 7.5 seconds) and an EPA-rated range of 260 miles. The higher-level ID.4 Pro S trim pairs more standard features with the same battery and motor, but the extra goodies cut the range rating by 10 miles. A dual-motor AWD option ($3,680) with 295 hp and up to 2,700 pounds of towing capability will come in the fourth quarter of 2021, according to VW, though exact pricing and published EPA range remain pending. DC fast charging up to 125 kW is standard, and buyers also get three years of free fast charging at Electrify America stations.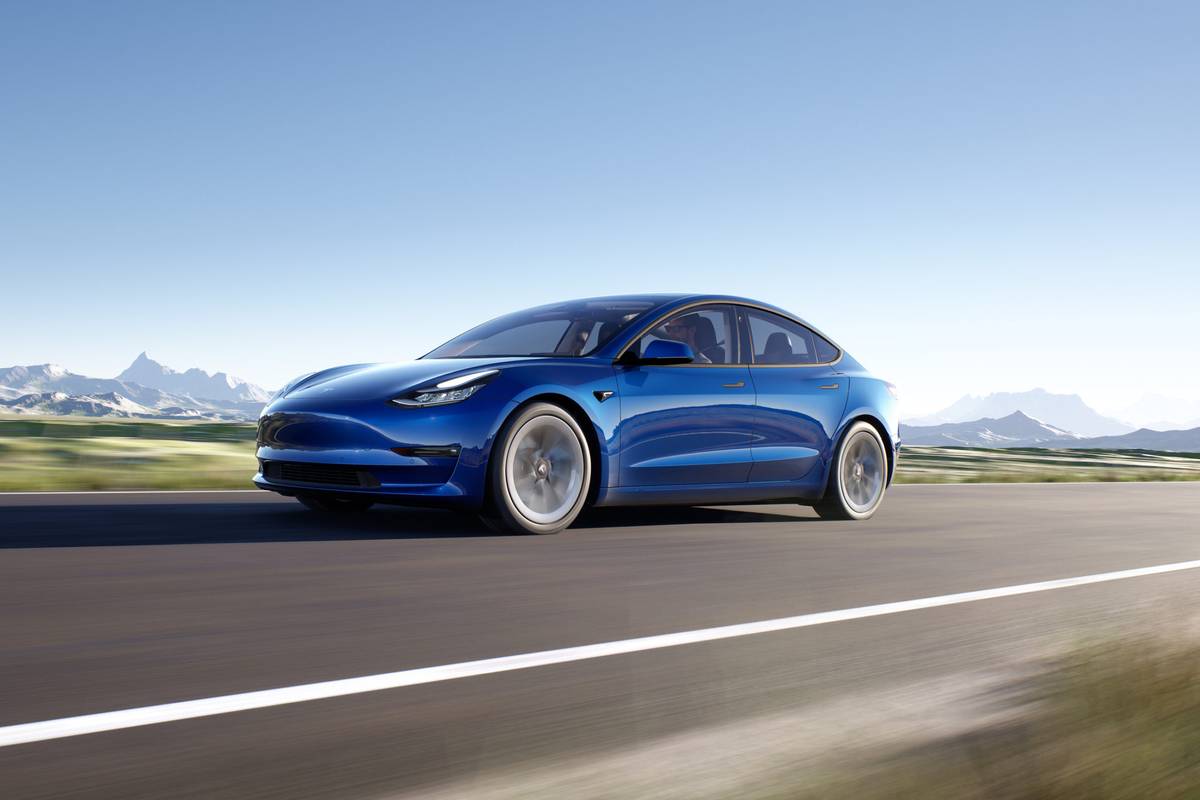 Tesla Model 3 | Manufacturer image
Starting price: $41,190
EPA-estimated range: 263-353 miles
Eligible for federal plug-in tax credit? No
The Tesla Model 3 is a four-door, five-seat sedan. The base Standard Range Plus has single-motor RWD (good for a Tesla-claimed 0-60 mph in 5.3 seconds); it's the least expensive way to get into a Tesla and arguably the premium brand's best value. The next trim up, Long Range Dual Motor, adds 90 miles of range, faster acceleration and AWD, but it's also nearly $10,000 pricier.
The inside of a Model 3 is unlike other EVs in that the 15-inch touchscreen on an otherwise bare dashboard is your access point to most driver controls and information. It also offers several entertainment choices, but those don't include AM and satellite radio or Apple CarPlay and Android Auto. An all-glass roof, navigation, heated seats and the Tesla's basic Autopilot bundle of driver assist tech is standard; a more sophisticated driver assist system with still-evolving features is a $10,000 option. Fast-charging capability up to 170 kW (250 kW on higher trim levels) is standard, and owners have access to Tesla's extensive proprietary charging network of DC fast chargers, as well as access (with an adaptor) to public charging networks.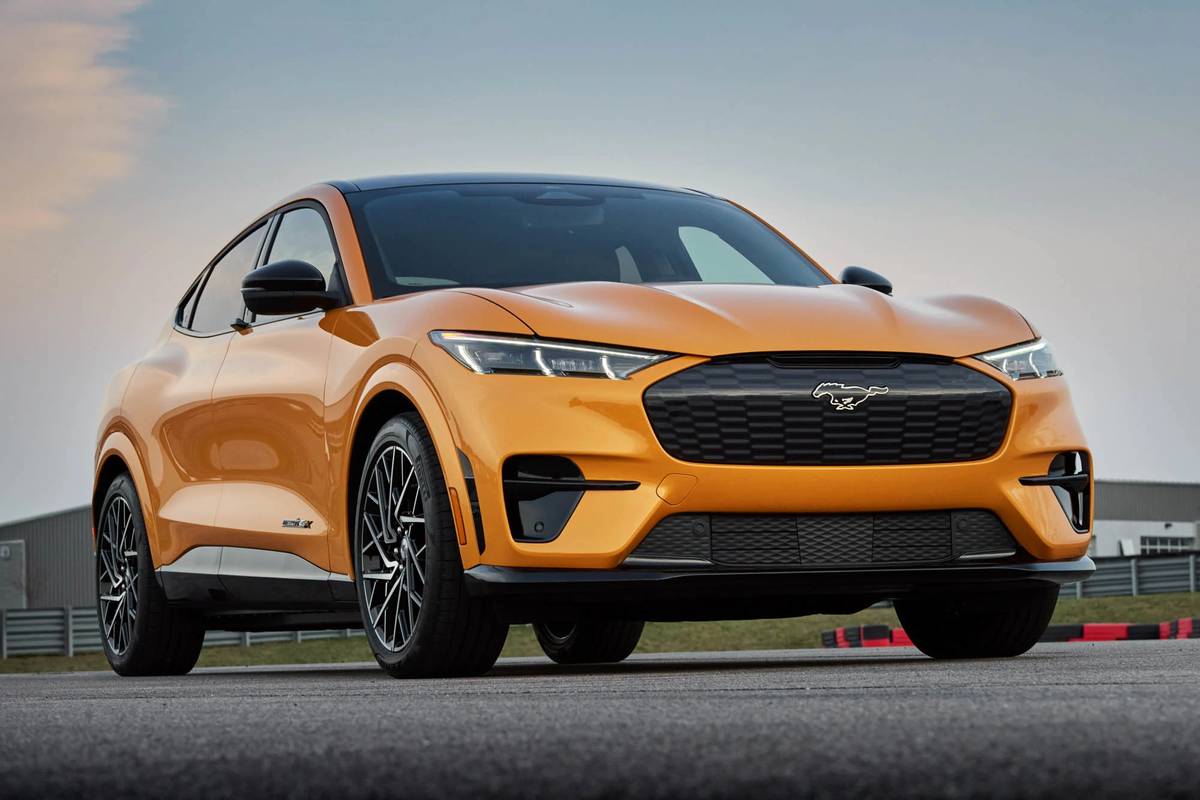 2021 Ford Mustang Mach-E | Manufacturer image
Starting price: $43,995
EPA-estimated range: 211-305 miles
Eligible for federal plug-in tax credit? Yes
This fastback SUV rides the name recognition of the iconic Mustang sports car, but it also rides a different, EV-focused platform — much as GMC's forthcoming electric Hummer bears relation by name only to the famed in-your-face SUV. The Mach-E offers a complex variety of trim levels and range options, and still coming is a pair of GT performance versions that Ford targets for 0-60 mph times in as little as 3.5 seconds. The combination of value and capability earned the Mach-E a nod as Cars.com's 2021 Best Eco-Friendly Car of the Year. 
The base, standard-range Mach-E has a 68-kWh battery, while longer-range versions have an 88-kWh pack. RWD or dual-motor AWD are offered with both batteries. The base, standard-range Select trim has 230 miles of range with RWD or 211 miles with AWD. Driving range tops out at 305 miles with the RWD California Route 1 model. DC fast-charging capability is standard at up to 150 kW.
The small SUV's interior is comfortably roomy, but Cars.com-tested cargo space behind the rear seat is a modest 15.9 cubic feet (though the Mach-E's front trunk adds a few more cubic feet). Dominating the dashboard is a vertically mounted 15.5-inch touchscreen powered by Ford's newest-generation Sync 4A system; it handles multimedia and most controls (though with a physical volume knob) along with a separate instrument display. Also standard is a full bundle of safety and driver assist tech.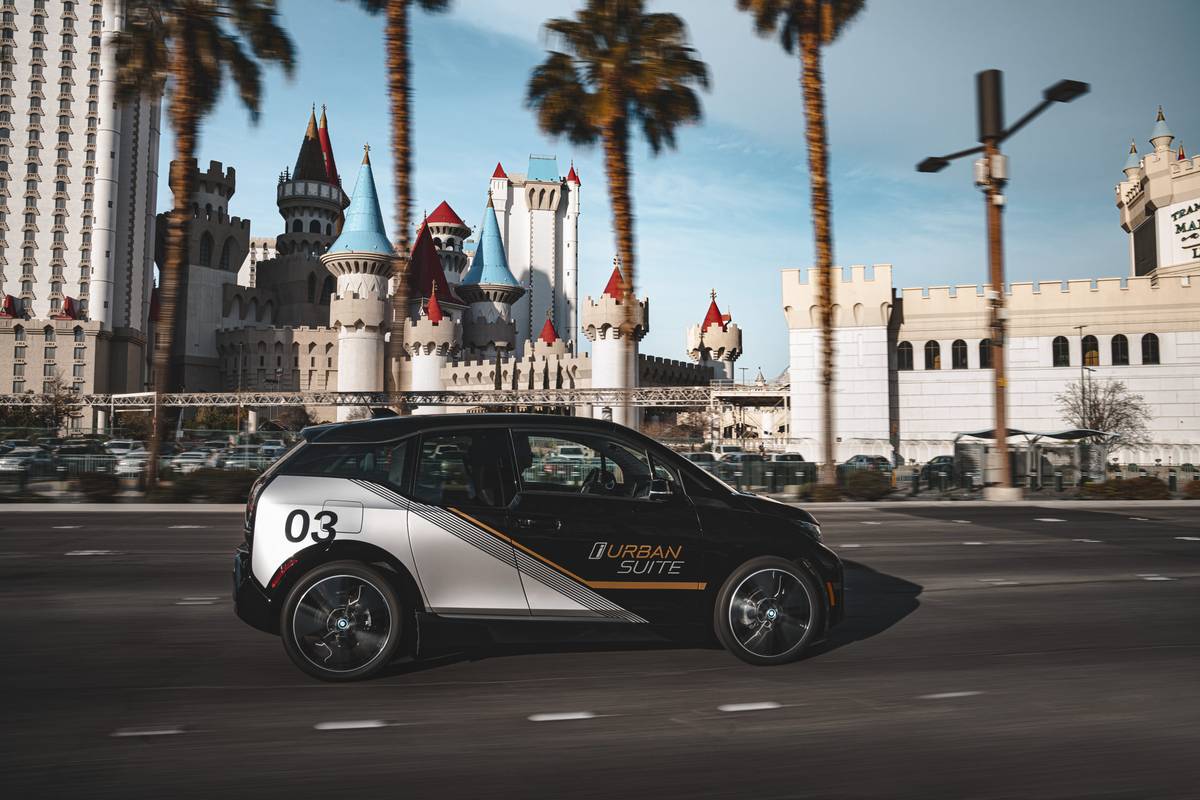 2021 BMW i3 | Manufacturer image
Starting price: $45,445
EPA-estimated range: 126-153 miles; 200 miles with optional gasoline range extender
Eligible for federal plug-in tax credit? Yes
BMW's futuristic little i3, a four-seat hatchback, is being retired for the U.S. after the 2021 model year as BMW shifts its electric "i" models to more conventional-looking EVs, such as the upcoming i4 sedan. But 2021 i3 models will remain available for a time, if you're looking for a distinctive small city car with limited range (the i3 has a 42.2-kWh battery) and a premium interior featuring natural materials. The i3's body has a design with no middle pillar and  rear-hinged half-doors for access to the rear backseat. It's offered in a base model with a 168-hp electric motor in the rear and a sportier i3s trim level with a 181-hp motor; the latter can hit 60 mph in 6.8 seconds. The i3 has fast-charging capability to hit 80% charge in 40 minutes; it can charge to 80% in five hours on a home charger. Unlike the other EVs on this list, BMW also offers the i3 and i3s models with a small, range-extending gasoline engine ($3,850). Adding it cuts all-electric range to 126 miles, but then it runs as a series hybrid with an EPA combined rating of 31 mpg on premium fuel — though only for another 74 miles by dint of a small fuel tank, giving it a total EPA range of 200 miles from gasoline and electric power.
More From Cars.com:
Related Video:
Cars.com's Editorial department is your source for automotive news and reviews. In line with Cars.com's long-standing ethics policy, editors and reviewers don't accept gifts or free trips from automakers. The Editorial department is independent of Cars.com's advertising, sales and sponsored content departments.